Teaching Experience
Elementary School Puberty Class
We learn and grow throughout our life, and so does our selves as sexual human beings. That is an uncomfortable conversation for many people, but talking about it is the best remedy for confusion, embarrassment, and insecurity. Teaching school-age kids about all the physical, emotional, and social changes of puberty helps them make sense of themselves and the world around them.
High School Health Class
For eons, we've been teaching our teens how to prevent unplanned pregnancy. But do we ever talk to them about intentional pregnancy and family formation? Rachel got to flip the negative into the positive, and remind kids that sometimes life takes huge unexpected turns but it also provides us with amazing opportunities that we didn't even know existed.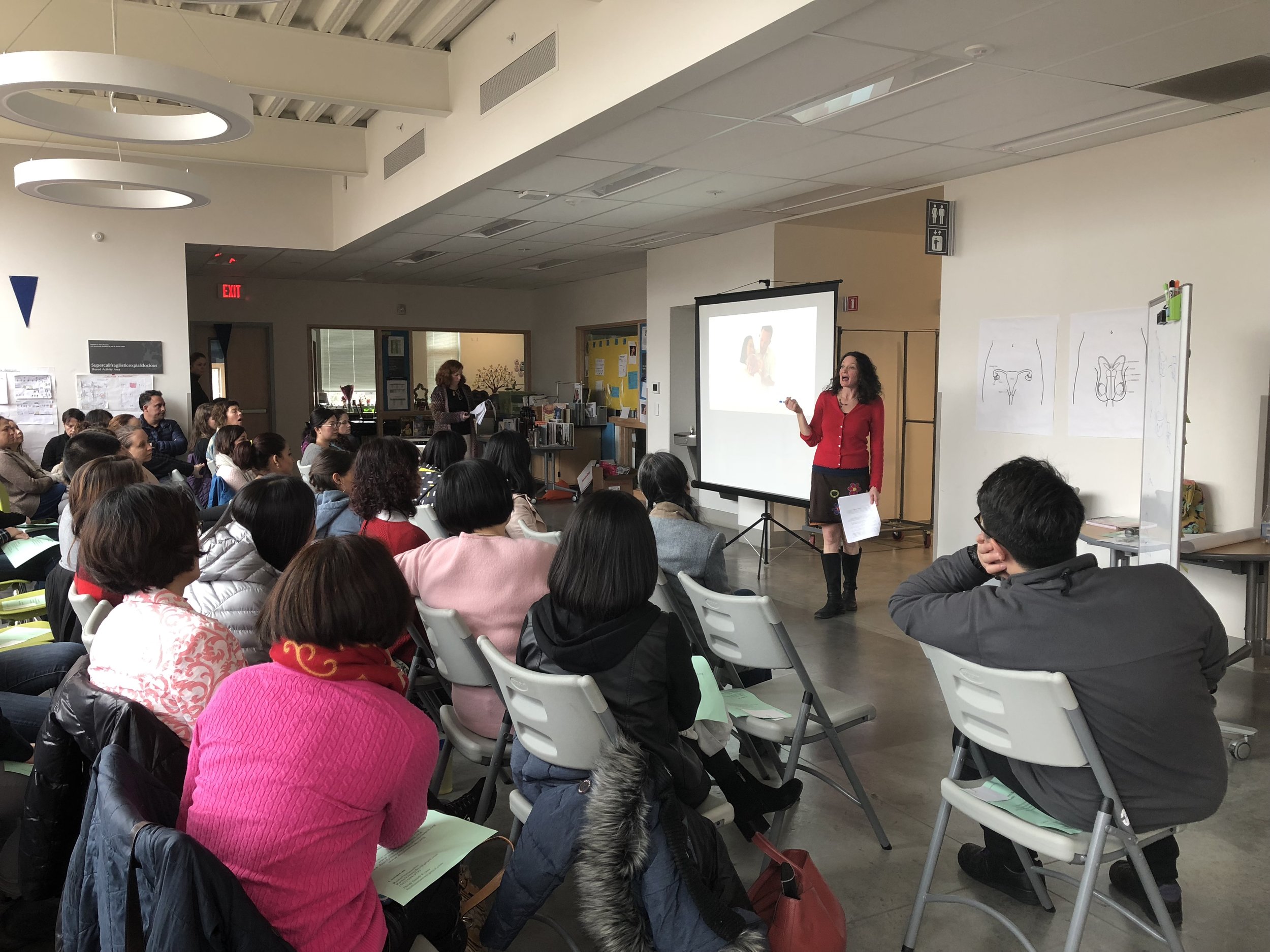 Elementary School Teacher & Staff Training
Rachel went to town in a teacher and staff training around Equity, Diversity and Inclusion of family experiences. We explored all the ways that kids become kids, and brainstormed how to ensure a welcoming school environment for all family structures and experiences.
High School Health Teacher Training
Teaching the teachers! There is a whole new reproductive world out there, not typically covered in sexuality health class. Kids and teens read, hear, and see it on the Internet, on social media, and in the news. But modern reproduction isn't just 'out there' somewhere. It is part of their daily lives and the lives of their friends. Knowing how human reproduction really works, enables kids make sense of the world and lets them envision their own positive futures.
PTA Parents Refresher Course
The home is a GREAT place to have conversations about sexuality health. Don't know where to begin, what to say, or how to include all that modern baby-making stuff? During our Parent Refresher course, we wrap the many facets of comprehensive sexuality education into a workshop on reproductive health that applies to every gender, every sexual orientation, every family and every human. This isn't your grandmother's sex ed class! But it will help you talk to your kid(s) openly, honestly, and confidently.
One-On-One Consultations
Want a private consultation with your family or friends? We love to talk to individuals as much as we love to reach a big audience. Intimate settings are the perfect place to get YOUR voice heard, ask YOUR questions and to share YOUR worries.
Brains & Brews - Community Workshop for Adults
With Brains & Brews, adults come together to learn and grow as a community. This discussion will focus on how ALL families are made. Equally.
Today, we send sperm in the mail, freeze eggs and donate embryos. It's time to update how we talk about human reproduction. Sure, we'll talk about sex, but we'll also discuss insemination, in vitro fertilization, donors, surrogates and how these methods help us make many different kinds of families.
Pizza & Puberty - for kids and their adults
Preteens, Teens and their Trusted Adult are warmly invited to an afternoon of learning, growing and celebrating puberty. Our workshops are designed to impart fact-based information, develop skills, and provide support.